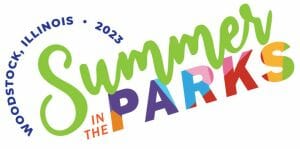 2023 SUMMER IN THE PARKS - Food Truck/Food Vendor Application
Festival Dates & Operating Hours for Food Trucks/Food Vendors
Friday, June 23, 4:30-11pm
Saturday, June 24, 3-11pm
Sunday, June 25, 12-6pm
Festival Location: Emricson Park - 1313 Kishwaukee Valley Rd., Woodstock, IL 60098
Non-refundable registration fee and all supporting documentation must be submitted by May 1, 2023. The Woodstock Area Chamber of Commerce & Industry (WACCI) is not responsible for applications that do not include the necessary documentation. Vendors with outstanding debt to WACCI will not be allowed to participate until outstanding financial obligations are rectified.
Submission of an application does not guarantee acceptance to the event. Due to limited space at 2023 Summer in the Parks, vendor selection will be based on menu, completion of paperwork and payment. The Festival Committee reserves the right to limit the number of Food Vendors in all categories (ie. BBQ, Mexican, Pizza, etc.) Application and equipment fees will be refunded to any vendor not approved.
To qualify for WACCI membership, Food Trucks/Food Vendors must agree to membership terms, complete the online application and submit payment at the Chamber's website. Membership must be completed before May 1, 2023 for discounted pricing.
DUE DATES
By applying to be a vendor for this event you agree to the following guidelines:
A certificate of insurance showing The City of Woodstock, Woodstock Chamber of Commerce and Industry and Real Woodstock Inc. as additional insured must be turned into the Chamber by May 15, 2023.
Electrical service must be pre-arranged. There is an additional fee for this service. Pre-approved generators may be utilized.
No Refunds for any approved vendor will be given, or substitutions made. Any vendor that is not approved will have application fees refunded.
Payment in full must be submitted within 30 days of your application approval or by May 1, 2023 whichever comes first. Credit card information is listed on the registration form. Checks should be made payable to the Woodstock Chamber of Commerce, 127 E. Calhoun St. Woodstock, IL 60098.
Specific locations may not be requested. Your location assignment will be available one (1) week prior to the event. You will receive a pre-event email with your arrival time and location. Request for change will not be accepted.
No Vendor will be allowed to set up prior to their assigned check in time, Friday, June 23.
Vendors agree all setup and cleanup is your responsibility. Vendors need to dispose of their own grease, garbage, and gloves. Grease needs to be disposed of offsite.
Vendor agrees to adhere to all safety instructions and recommendations, whether oral or written.
Arrival times will be assigned.
If you are late, you will be pushed to the last arrival slot.
Trucks may not depart early. Staff will notify all food vendors/food trucks when it is safe to leave the event grounds.
Trucks are responsible for their own COVID-19 pertinent signage, as necessary.
No alcohol sales will be permitted.
Vendors are responsible for their own sales tax. A list of vendors is shared with the City of Woodstock.
McHenry County Health Dept. will be onsite beginning at (Time TBA) to inspect for health permits and to confirm proper handling requirements. It is your responsibility to contact the McHenry County Health Dept. in advance regarding a temporary health permit and to confirm proper handling requirements.
If the Health Dept. refuses to issue a vendor a permit, refunds are not available.
Vendors MUST have their truck staffed at all times during the event hours.
The Woodstock Chamber reserves the right to reject any application for space, or any item presented for sale by a vendor for any reason.
Vendors may advertise and distribute from their assigned spaces only.
By registering for the 2023 Woodstock Summer in the Parks Festival on June 23-25, 2023, Vendor agrees to the following terms and conditions:
Assumption of Risk; Release of Liability; Indemnification
Vendor, including, without limitation, its owners, members, managers, officers, directors, employees, volunteers, agents, and/or guests ("ACTIVITY PARTICIPANTS") hereby:
ACKNOWLEDGES the ACTIVITY exposes ACTIVITY PARTICPANTS to risks and hazards, some of which are inherent in the very nature of the event itself, others which result from natural causes, error, and negligence on the part of third parties or the ACTIVITY HOST, and that, as a result of the risks and hazards, ACTIVITY PARTICIPANTS may suffer serious personal injury and/or property loss; and
AGREES that nevertheless ACTIVITY PARTICIPANTS freely and voluntarily ASSUMES THE RISKS AND HAZARDS OF THE ACTIVITY; and
RELEASES The Woodstock Area Chamber of Commerce and Industry, The City of Woodstock and Real Woodstock, including, without limitation, their owners, members, managers, officers, directors, employees, volunteers, and/or agents ("ACTIVITY HOSTS") from all liability, recourse, proceedings, claims, and causes of action of any kind whatsoever, including claims of personal injuries or property losses, which ACTIVITY PARTICIPANTS may suffer arising out of, or connected with, preparation for, participation in, or clean-up/take down after the ACTIVITY; and
DEFENDS, INDEMNIFIES AND HOLDS HARMLESS ACTIVITY HOSTS from any claims, liabilities, losses, damages, suits, costs, and expenses of any kind or nature including without limitation reasonable attorneys' fees ("Claims") arising from or relating to ACTIVITY PARTICIPANTS' participation in the Activity, except to the extent that any Claims are solely caused by the gross negligence or deliberate misconduct of ACTIVITY HOSTS; and
UNDERSTANDS that by participating in the ACTIVITY, ACTIVITY PARTICIPANTS will be forever prevented from suing or otherwise claiming against ACTIVITY HOSTS for any loss or damage connected with any property loss or personal injury sustained while participating in or preparing for, or clean-up/take down after, the ACTIVITY; and
AGREES these terms are binding on ACTIVITY PARTICPANTS, their heirs, legal representatives, agents, personal representatives, trustees, successors, and assigns.