Save the Date - 77th Annual Awards Gala, Friday March 25, 2022!
Nominations for the 2022 Annual Awards open January 15, 2022.
Nominations will be accepted January 15th through February 15th each year.
The Woodstock Area Chamber of Commerce and Industry Awards Dinner attracts prominent business leaders to recognize and celebrate the people and companies that have made the Woodstock Area great and demonstrated unique vision, innovation and achievement in support of our region's economy and small to mid-size business community.
Thank you to everyone who took the time to nominate a company or person you felt went above and beyond this past year.
Nominate your Peers!
Please complete a nomination form to help us recognize those most deserving.
Download the Harold Buschkopf Award Nomination Form.
Return to Chamber by February 15, 2022.
Here are your 2021 Annual Award Nominees by category!
Annual Chamber of Commerce & Industry Awards
Congratulations to Our Previous Years Award Recipients: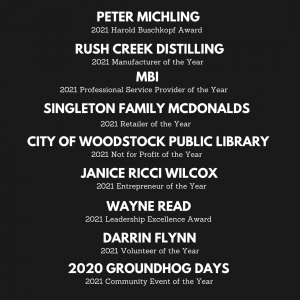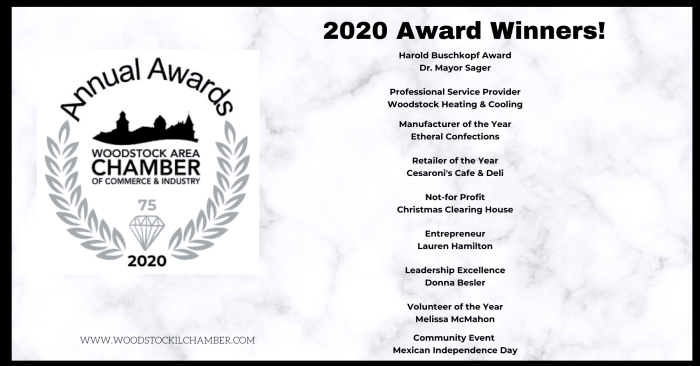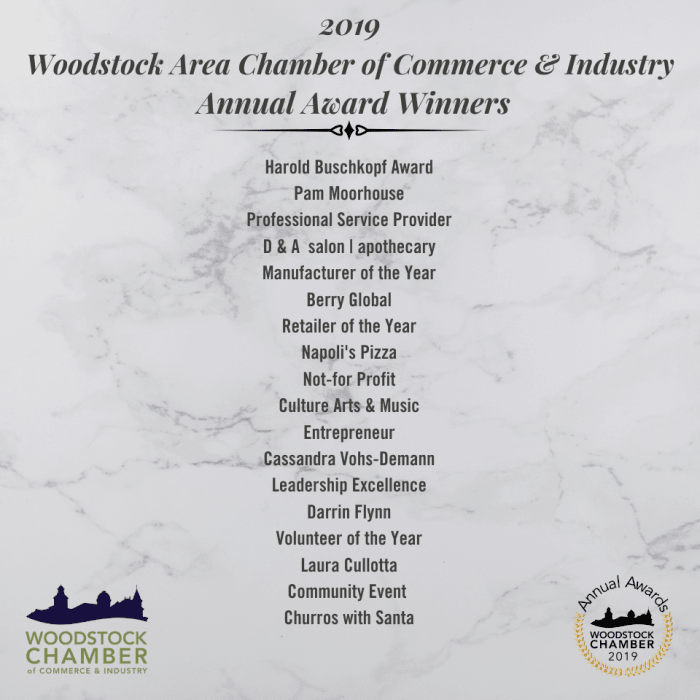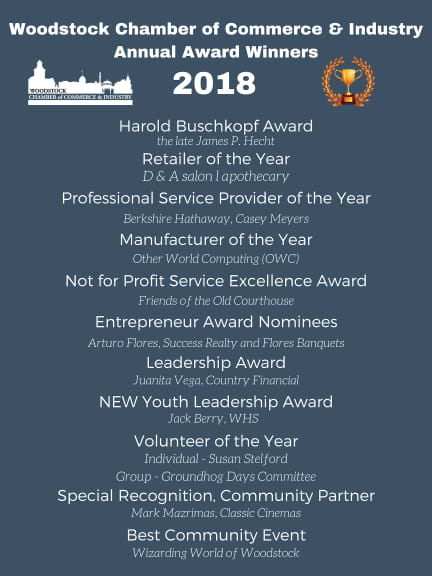 Harold Buschkopf
Steve Gavers / Gavers Community Cancer Foundation
Entrepreneur of the Year
Tom Dougherty - Dougherty Enterprises
Leadership Award
John Stassen - Stassen Insurance
Not for Profit Excellence Award
Woodstock Fine Arts Association
Professional Service Provider
Woodstock Heating - Eric & Dawn Iversen
Retailer of the Year
Copy Express - Jim O'Leary
Volunteer of the Year
Cindi Carrigan - Carrigan Design
Juanita Vega - Country Financial
Teamwork Award
The City of Woodstock - City Council, Promote Woodstock, Mayor Sager,
City Managers Office & Economic
Development