Friday, Nov. 25, 2022 - Saturday, Dec. 31, 2022
The Shop, Dine, Save & Win Holiday Program is intended to stimulate retail sales in Woodstock, save you a little money on your purchases, and reward you for shopping local small businesses with a chance to win cash prizes to share with your favorite small independent retailers and restaurants.
As you know, the pandemic took a toll on small businesses, so a successful holiday season is again essential for many retailers and restaurants to rebuild and get through the winter months, when traffic and sales typically decline, even in a strong economy. They need our support to keep our community and economy vibrant!
The "Shop, Dine, Save & Win Program" offers benefits to both the consumer and local businesses.  Funding sponsorship from The City of Woodstock supports this holiday shopping program which is managed by the Woodstock Area Chamber of Commerce & Industry. This year we are offering $8,000 in cash back incentives* to the first 400 people who submit qualifying receipts from 2-5 businesses valued at $200 (pre-tax) from our small independent retailers and restaurants. (There are exceptions to the products and businesses that qualify.)
$3500 will be given out as prize money with a $2,000, $1,000 and $500 prize to be awarded and shared 50/50 with your favorite retailer.
​*Incentive money not fully distributed, will be held over for next year's program investment.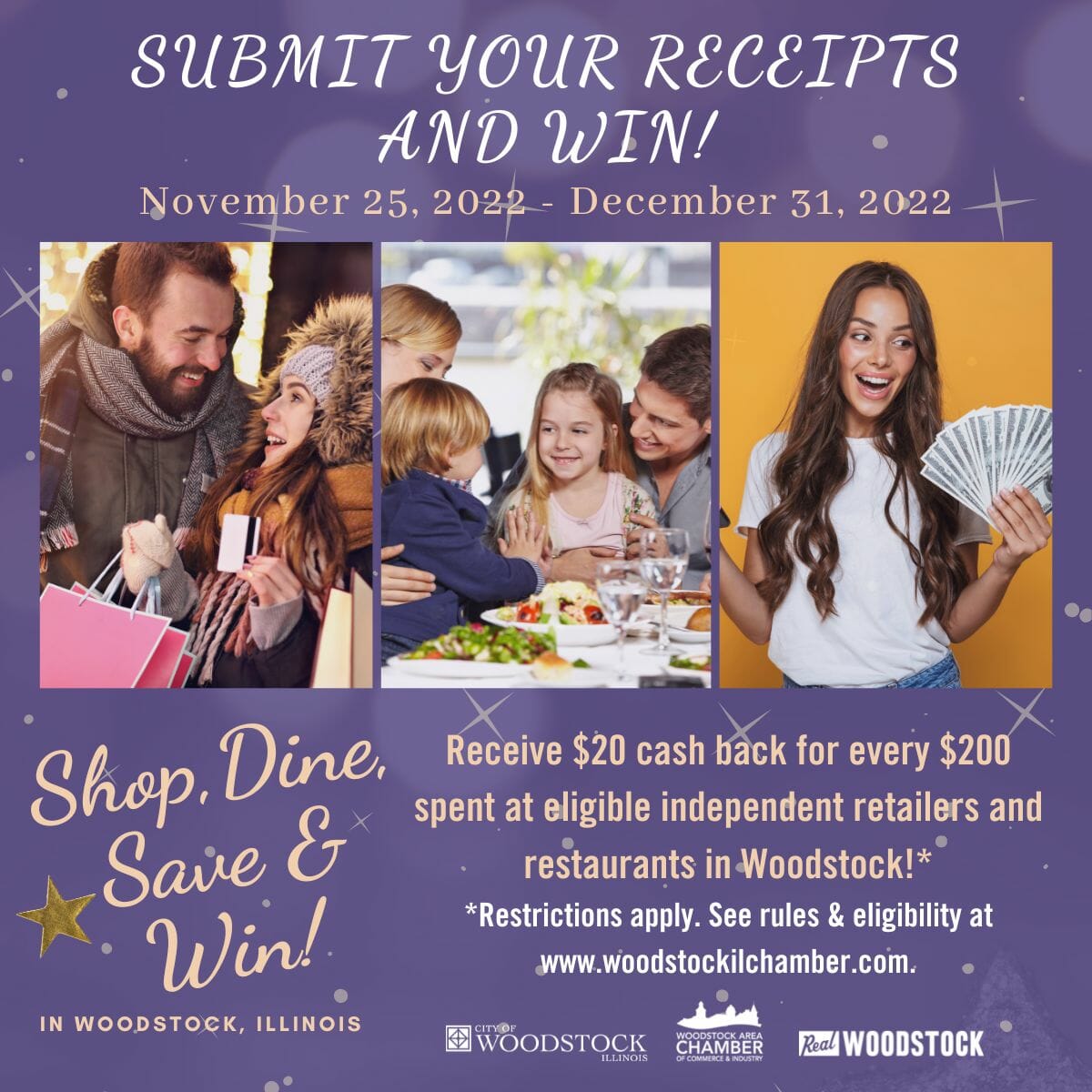 Shop small independent retailers in Woodstock (CLICK HERE  for list of eligible businesses) between November 25, 2022 and December 31, 2022 and spend $200 or more (pre-tax, exclusions apply).
Submit qualifying receipts in-person to the Woodstock Area Chamber office (Open M-F from 9 to 5 PM, holiday week schedule varies please check website home page for holiday hours) totaling at least $200 (pre-tax) in qualified retail purchases from 2-5 small independently-owned Woodstock retailers by Friday, January 6, 2023 at noon.
Receive $20 Cash Back on eligible receipts!
Fill out a raffle entry form at the Chamber when you submit your receipts, for a chance to win cash prizes to split with your favorite local retailer.
On your raffle entry, identify the Woodstock retailer you wish to split the prize money with, should you win.
Three winners will be selected.

First Place $2,000
Second Place $1,000
Third Place $500
Prizes will be split 50/50 with winner and the retailer they selected.
Winners will be drawn, and prizes awarded on Tuesday, January 10, 2023.
This program is for residents and visitors who shop at our small independent brick and mortar retailers and restaurants only.
Not Eligible:
Receipts from big- box stores, grocery stores, auto, RV, motorcycle, boat, liquor, tobacco, gas, and convenient stores are not eligible.
Receipts dated before 11/25/22 or after 12/31/22.
Receipts from online stores that do not have a physical brick and mortar location in Woodstock. 
Receipts that include tobacco, alcohol, or gasoline. (Restaurant receipts must be itemized, to decipher food from alcoholic beverages - only food is eligible.)
Receipts for services (including haircuts and colors), installation or delivery charges are not eligible.
Receipts for purchases made with gift cards.
Receipts & raffle entries submitted to the Woodstock Area Chamber after Friday, January 6, 2023 at noon.
Receipts received via email, fax or postal mail.
Eligible
Receipts from retailers and restaurants on the List of Eligible Small Independent Retailers and restaurants in Woodstock (if you believe we have missed a business please call the Chamber office (815) 338-2436 to request an addition)
Purchases of gift cards, with receipt
Receipts from hair salons for retail sales only - not services.
Online purchases, with receipts, from the list of eligible small independent brick and mortar businesses.
Up to two submissions per person - with unique receipts for each submission.  (Same retailer may not be chosen for both raffle entries)
Receipts dated between 11/25/2022 and 12/31/2022. 
Receipts & raffle entries submitted to the Woodstock Area Chamber by Friday, January 6, 2023 at noon. 
Prize recipients will receive check payments. A valid drivers license or other government-issued ID must be presented for prize pickup. Checks over $600 will require a social security number as well for required tax reporting purposes.